Affinity-based Senior Living Communities: A Timely and effective Addition
to a Church or College Campus.
We are witnessing the future today. Over 10,000 people are turning 65 every day… and will continue to do so for the next twenty years. A child born today has a 50% likelihood of living to be one hundred years old. Growing old- 80 or older- is now the norm and the elderly are healthier; but mental health is becoming the top health issue. We will age but may not be fully cognizant of the last several years of our lives.
Only about 3% of seniors can be accommodated in existing senior care facilities. Over the next decade that percentage will drop even lower, as the aging population outstrips the inventory of senior centers.
How will they be cared for? Who will do it? More and more families are seeing children taking care of their parents, and even their grandparents. Meanwhile they may still have children at home themselves. This "Sandwich Generation" is being asked to carry more and more burden in care-giving.
Additionally, non-profit as well as faith-based communities are in higher demand by seniors than secular, for-profit facilities. And the rewards of service and ministry do bring significant benefits as well.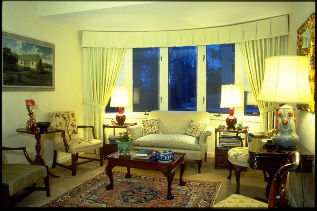 Benefits to the participating campus:
1. Consistent, growing revenue stream in an era
of ever-tightening resources.
- Helps pay off debt.
- Expands ministries or programs.
2. Increasing connectedness to existing and
future giving base.
- Demonstrates a tangible and directly
applicable service to the benefactors,
increasingly facing their own health issues
… a real return for their support.
3. Tremendous service to the community.
Based on recent independent appraisal reports, an affinity-based 100-unit senior living community can achieve $2,500,000 in annual Net Operating Income upon stabilization. Participating in such as strong, rewarding community can provide continuing and growing endowment to a campus in an era of tightening revenues. We encourage you to learn more about college and church affinity-based senior living communities and how one may well add ministry, academic and financial benefits to your campus and community.
Affinity-based Senior Living Communities are among the strongest investment opportunities available anywhere. These are demographics-driven, need-based, and financially sound.